Routine stains
We are proud to inform you that we have received CE IVD for: BioVitrum routine stains (hematoxylins and eosin) All is produced by our manufacturer Ergoproduction LLC. Attached you will find the scan of this certificate.
Download file:
"BioVitrum" Company develops and manufactures wide range of ready-to-use solutions and kits for histology routine and special staining.


Our benefits:
High-quality solutions
Suitable for both manual and automatic staining
No prior filtration is needed
Different package sizes
Perfect differentiation
High efficiency
We suggest wide range of solutions for routine staining: hematoxylins and eosins that cover all needs of Pathology laboratory.
Understanding an important role of diagnostics we pay very close attention to the quality control of all products we manufacture. We strictly control each step of production starting with raw materials and up to the end product. New industrial line and accurate following the manufacturing technology allow us to guarantee the best quality of reagents to our Customers.
Hematoxylin solution for nuclear staining: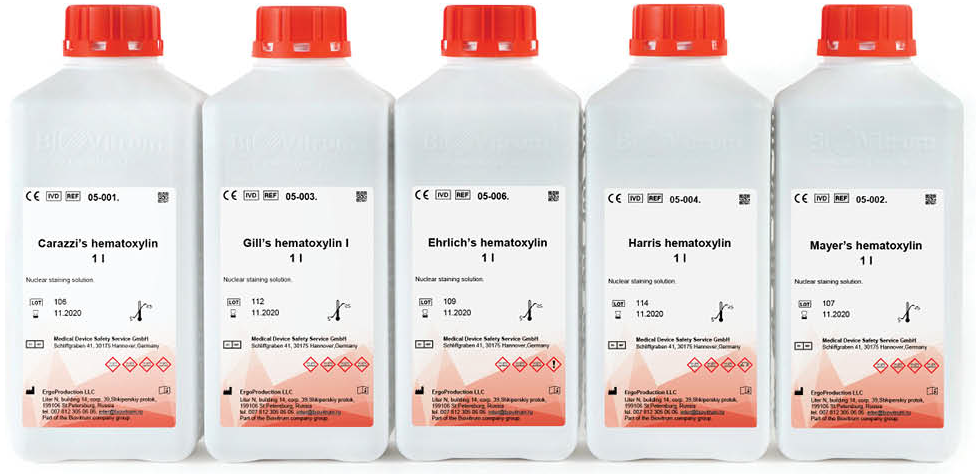 Name
Volume
250 ml
500 ml
1000 ml
Mayer's hematoxylin
*
*
*
Harris hematoxylin
*
*
*
Gill's hematoxylin
*
*
*
Carazzi's hematoxylin
*
*
*
Ehrlich's hematoxylin
*
*
*
Eosin solution for counterstaining:
Name
Volume
250 ml
500 ml
1000 ml
Eosin Y concentrated
*
*
*
Eosin Y 1% aqueous
*
*
*
Eosin Y 1% alcoholic
*
*
*