Reagents for tissue fixation and processing
Tissue fixation is one of the most important part of histology process. The fixative must have the ability to prevent short- and long-term destruction of the micro-architecture of tissue by stopping the activity of catabolic enzymes and hence autolysis, minimizing the diffusion of soluble molecules from their original locations (J.D.Bancroft, M. Gamble, 2011).
Formaldehyde is the most common fixative used in diagnostic pathology. The usual 10% formalin (NBF) contains about 4% weight to volume of formaldehyde. 10% Neutral buffered formalin (NBF) is a universal fixative for any tissue samples. Also is NBF is a best choice for long term tissue archiving.
10% Neutral buffered formalin (NBF).
Standard solution. Consists of formaldehyde, sodium phosphate, water.
Recommended ratio tissue/fixative should be not less than 1:50. Perform fixation at room temperature.
Time of fixation: 8-48 hours. Depends on sample size.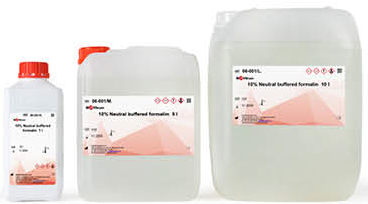 | | |
| --- | --- |
| Volume | Code |
| 1l | 06-001/S. |
| 5 l | 06-001/M. |
| 10 l | 06-001/L. |
Histophore™
Prefilled containers with 10% Neutral buffered formalin (NBF). Provide comfortable specimen transportation and ensures operator's safety.

Each container is one half filled with formalin solution. Containers with capacity 10-150 ml have screw caps; containers with capacity 500-5000 ml have drop-on airtight lids. All containers are leak-proof.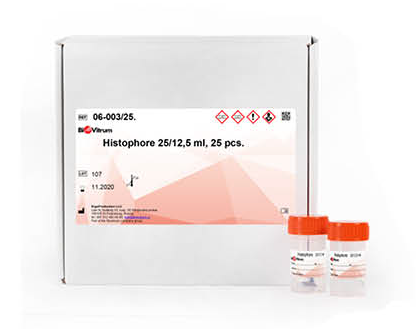 | | | |
| --- | --- | --- |
| Packaging | Capacity | Code |
| 50х5 ml | 10 ml | 06-003/10. |
| 25x12,5 ml | 25 ml | 06-003/25. |
| 15x25 ml | 50 ml | 06-003/50. |
| 12x75 ml | 150 ml | 06-003/150. |
| 4x250 ml | 500 ml | 06-003/500. |
| 1250 ml | 2500 ml | 06-003/2500. |
| 2500 ml | 5000 ml | 06-003/5000. |
Isoprep™ - isopropanol based processing reagent. Compatible with automatic tissue processors.
Isopropanol with additives formulated and optimized for use in the histological and cytological routine: processing, staining.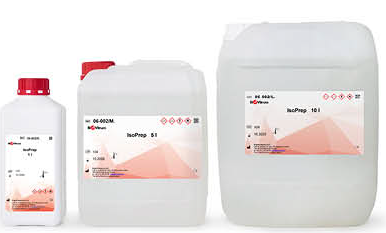 Isopropanol is a better alternative of ethanol and xylene in tissue processing. Xylene is used as a clearing agent in Histopathology. It is a flammable liquid that requires utmost care during its usage. On exposure, the vapour is rapidly absorbed through the lungs and slowly through the skin. Prolonged exposure to xylene leads to significant amount of solvent accumulation in the adipose and muscle tissue. (Adediran OA, Ibikunle DE, 2016). Xylene causes skin erythema and toxic eczema of the hands; irritation of the eye. Inhalation of xylene vapour is very harmful. Exposure to high concentrations of xylene can result in liver damage, kidney damage, loss of coordination, loss of consciousness, respiratory failure and even death.
Ispoprep can be used in tissue processing as a substitute of ethanol and xylene; also can be used in staining.
Isoprep helps to avoid human contact with toxic solution such as xylene; gives perfect result in processing and staining; can be used manually and automatic systems.
| | |
| --- | --- |
| Volume | Code |
| 1l | 06-002/S. |
| 5 l | 06-002/M. |
| 10 l | 06-002/L. |