Cold chambers
The wide size range of Tanartis cold-storage chambers allows to factor in any features of premises in which these chambers will be installed. The all screw construction makes the chambers convenient for delivery, unloading and installation.
We are proud to inform you that we have received CE IVD. All is produced by our manufacturer Ergoproduction LLC. Attached you will find the scan of this certificate.
Download file:
Tanartis Cold chambers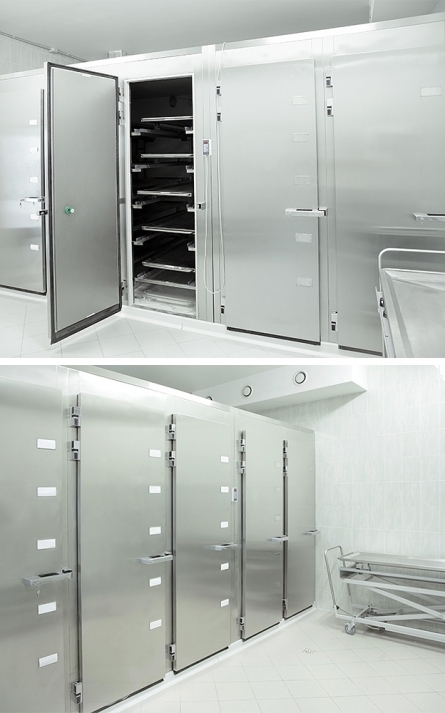 Cold chambers for corpses manufactured by Tanartis Company are the most convenient, reliable and ergonomic solution for storage of corpses. Chambers have shell structure consisting of sandwich panels with polyurethane filling. Tongue and groove panels with clamp fastening make it possible to install the chamber within a short time, without having to involve additional customer services.
The Tanartis Company offers customers a widest range of modifications of сold-storage chambers which can be arbitrarily divided into groups based on the following characteristics:
By material:
• Made entirely of stainless steel
• Made entirely of painted galvanized steel
• Combined design version option (for instance, chamber inner surfaces are made of stainless steel, while all the other surfaces are made of painted galvanized steel) on customer's request
By number of cells for corpses:
• from 1 cell indefinitely
By charging doors type:
• A common door for a unit
• A separate door for each cell
By temperature conditions:
• negative temperature (to -25 C)
• positive temperature (+2+4 C)
• bitemperature version (chamber includes cells with both temperature conditions)
By corpse pallet type:
• Sliding corpse pallets
• Wheeled corpse pallets
Apart from standard solutions, Tanartis Company can offer clients customized versions of Cold chambers taking into account any customer's wishes and features of premises intended for installation and further operation of chambers.