News
/
/
/
BioVitrum export step to the international market – participation in the world's leading trade fair for the medical industry MEDICA & COMPAMED, Dusseldorf (Germany)
BioVitrum export step to the international market – participation in the world's leading trade fair for the medical industry MEDICA & COMPAMED, Dusseldorf (Germany)
BioVitrum continues successfully expanding its export borders - the company took part in the world's leading trade fair for the medical industry "MEDICA & COMPAMED 2017". This year, the event brought together 123,500 professionals from 130 countries. 5 100 exhibitors from 66 countries presented their developments and products of medical purposes at the exhibition space.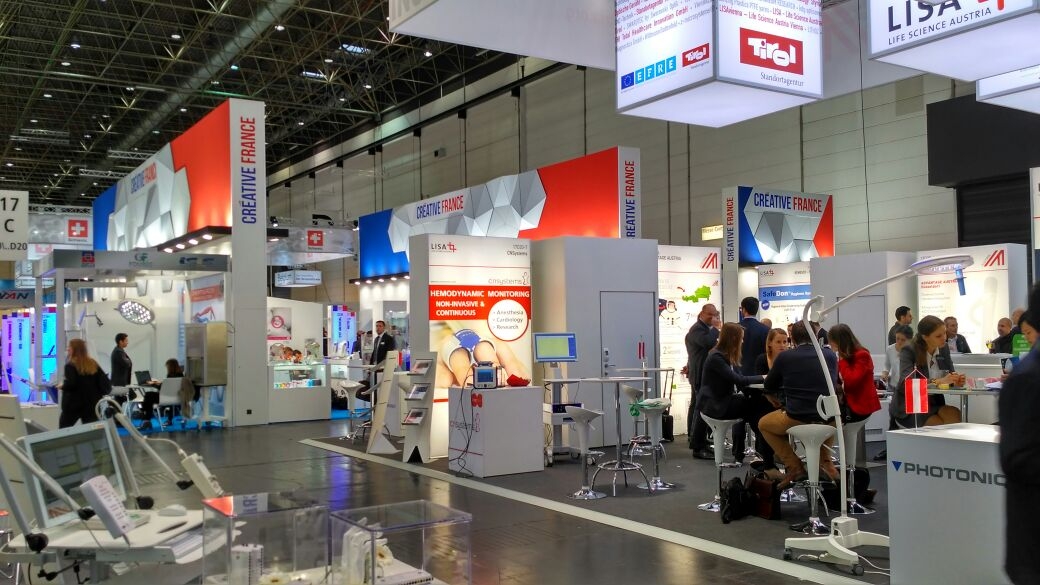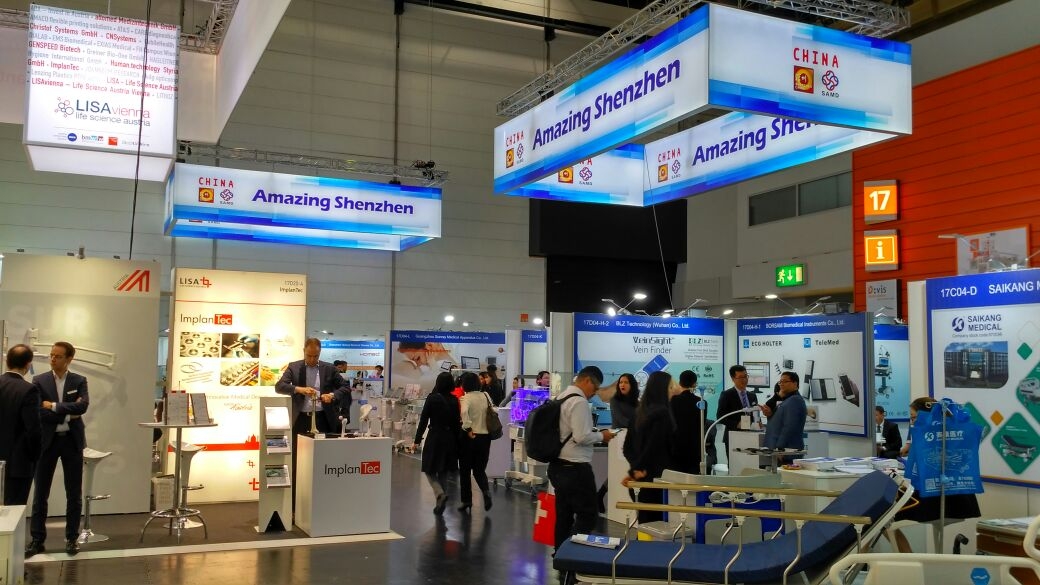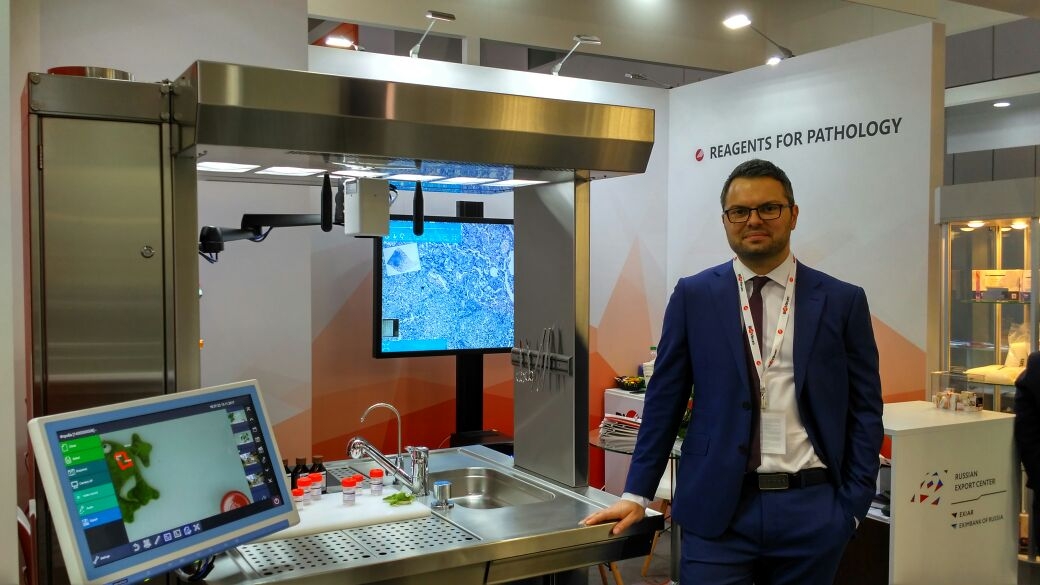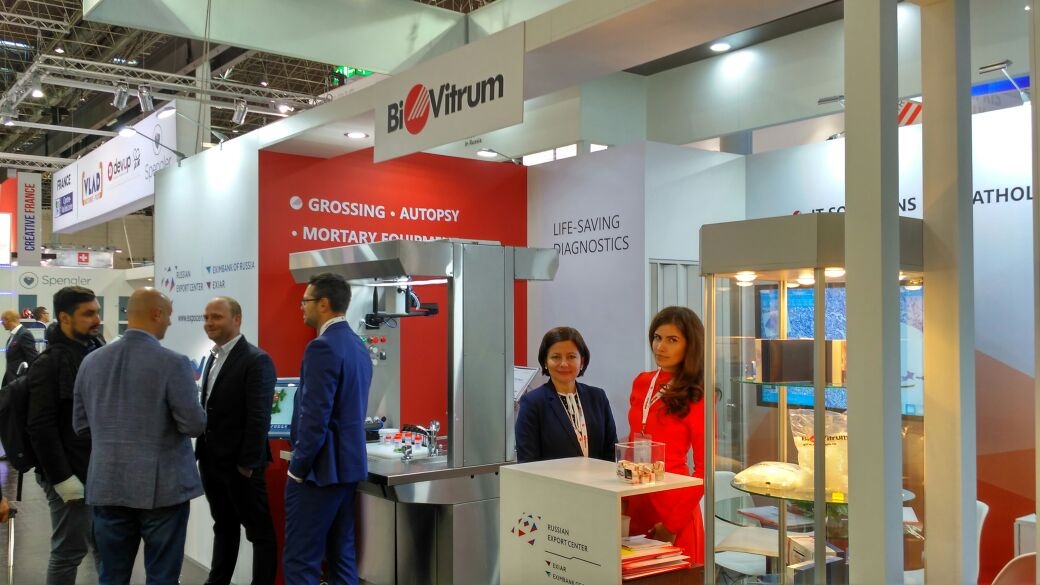 As an exhibitor, BioVitrum participated in the MEDICA show for the first time, and the debut was successfully. Such significant international exhibition coverage was a unique opportunity for presenting our innovative solutions at the same time to the attention of the whole world.
The exhibition was full of business meetings and subject talks. BioVitrum negotiated with more than 100 foreign companies, whose interest is focused on modern solutions in the anatomical pathology.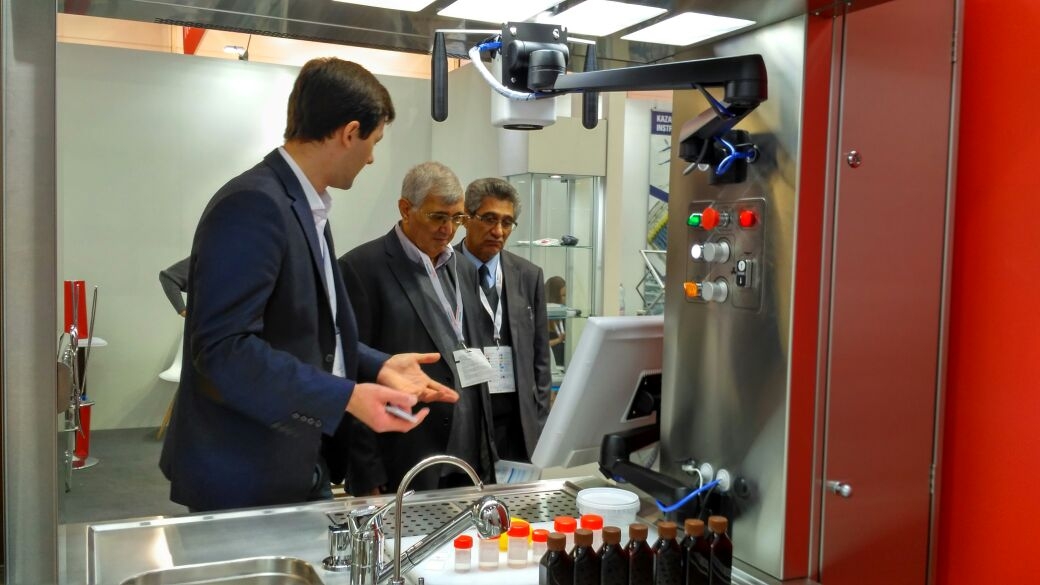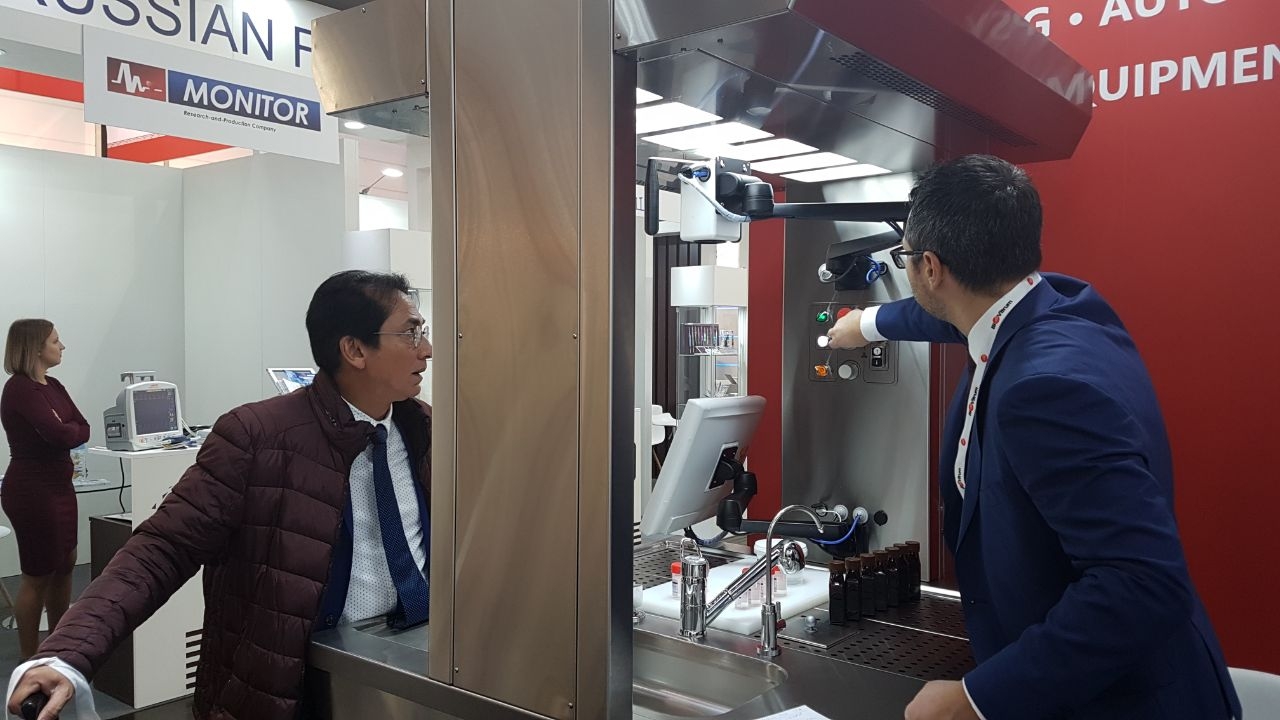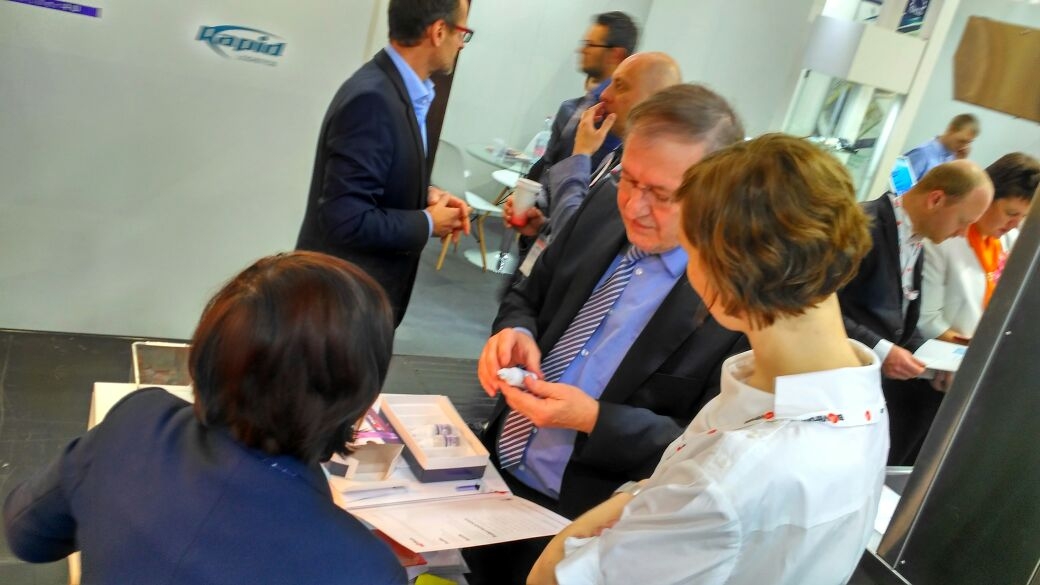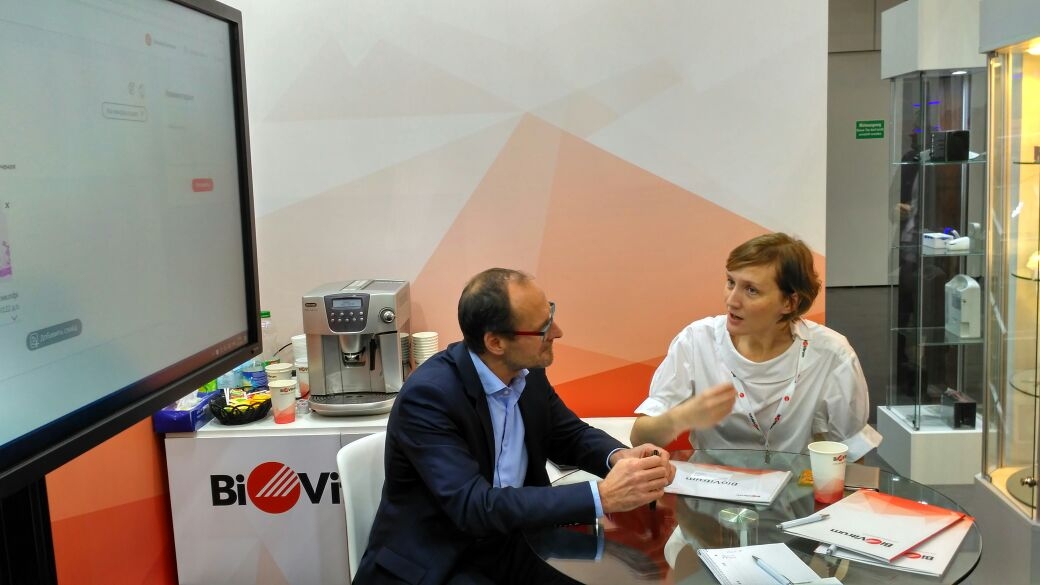 At the booth BioVitrum presented histological reagents of its own manufacture:
During the exhibition the particular interest was attracted by paraffin media HISTOMIX®. Our experience in manufacturing paraffins for histology is over 16 years. Paraffin media HISTOMIX® meets all global quality standards. Produced from carefully selected Russian paraffin and special blend of synthetic additives, our paraffin media guarantees high-quality result of tissue-sample preparation. Our Company has high technology production, research and development department and quality control laboratory. These all make possible to research and successfully implement up to 10 new medical items each year. Visitors of our booth paid attention at wide range of solutions and kits for special staining methods in histology. All reagents have stable quality, reasonable price and simple, step-by-step protocols for laboratory technicians.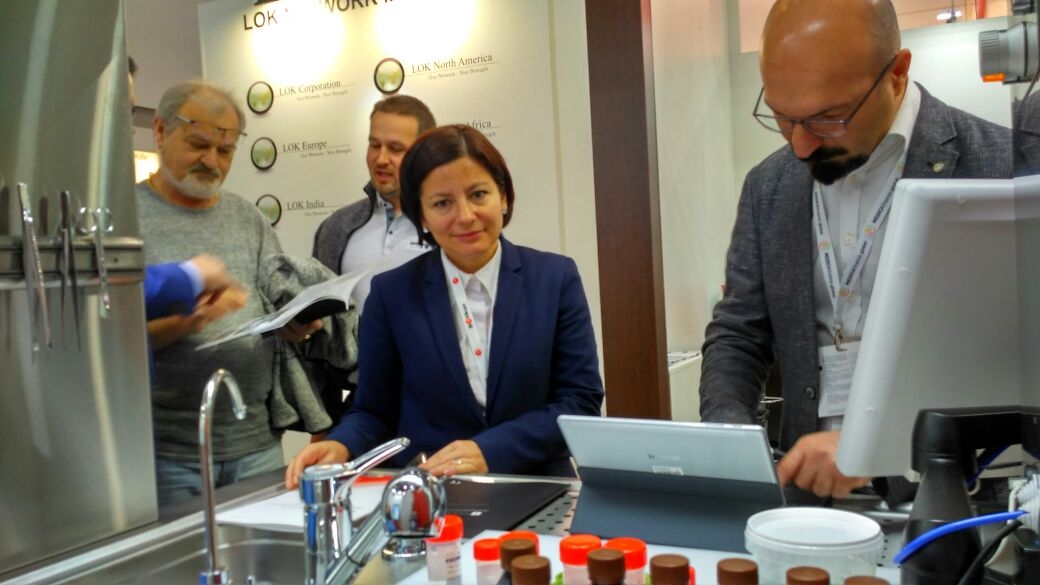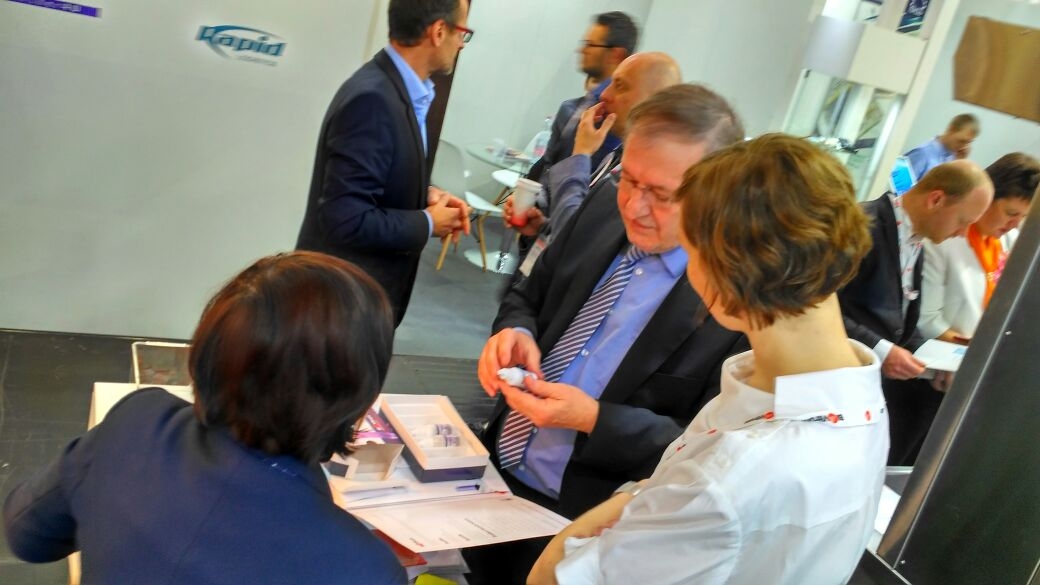 Visitors' attention was focused on the grossing station, developed by BioVitrum. It is especially designed unit for a one-time work of a doctor and a laboratory assistant "face to face". BioVitrum is the complete cycle production, from design and 3D models, to the implementation of complex structures. Any product can be modified to require the individual needs of the customer.
Advantages and distinctive features of this grossing station:
Ventilation system with capacity of 1000 m3 / h.

Air flap system, preventing reagent vapors lifting up to the histologist's and laboratory assistant's faces

Work surface height adjusting system

Formalin feeding and collection system with audible and visual warning for the operator about the level of the remaining "pure" formalin

Built-in general and additional individual lighting
A down flow extraction system and vertical feeding of clean air ensures the maximum comfort working environment for histologists.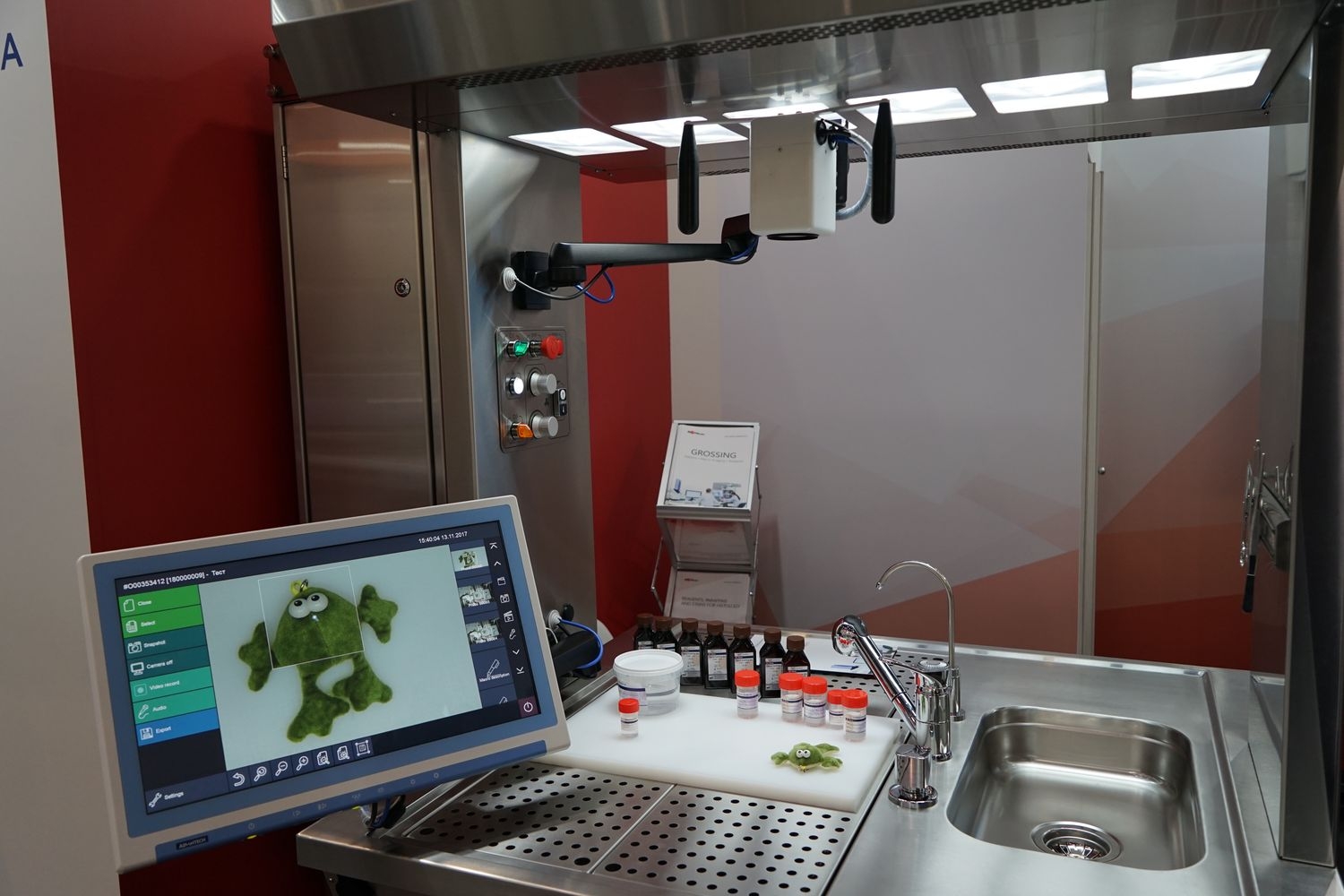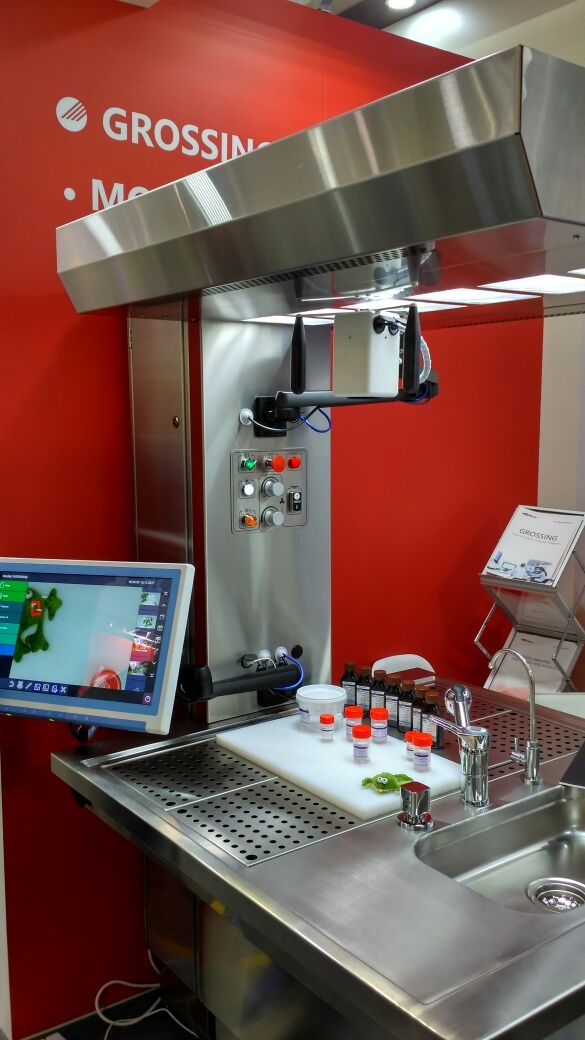 The grossing station was equipped with the company's own development - ePath. This is the macro imaging and grossing solution, with audio, video recording, and photo documentation, which allows you immediately enter all the data into the patient's electronic card. The ePath software allows the doctor conducting morphometry right on the workplace. ePath is compatible with DICOM, HL7 standards.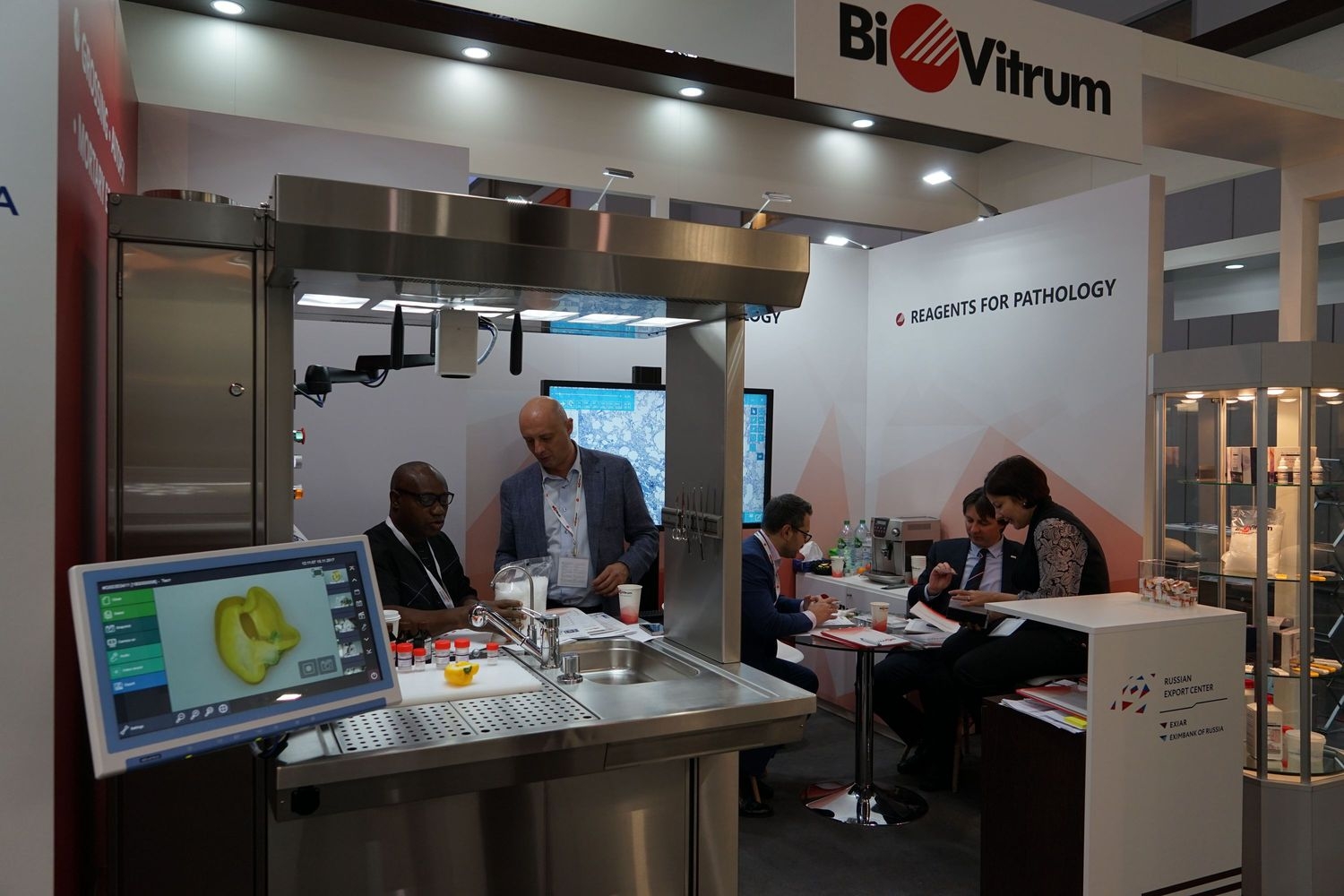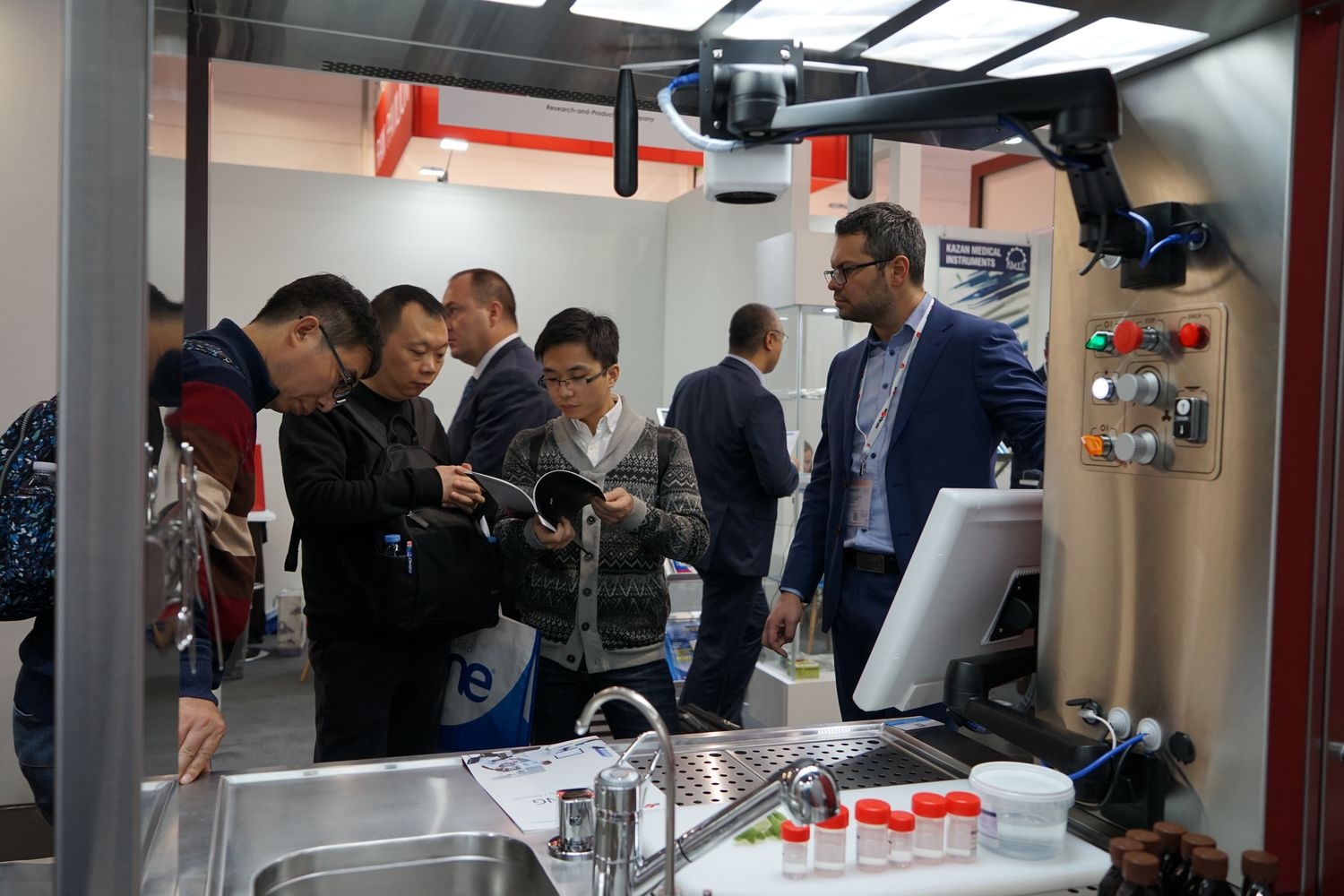 The exhibition participants showed great interest to the IT-products for Digital pathology, developed by BioVitrum.
Histoscan.com is a telepathology consultation portal. It is the cloud solution designed especially for the purposes of Digital Pathology. It is a fast and comfortable way to receive and make second opinion for scanned digital slides with easy access from any place 24/7. Now more than 1500 pathologists have already registered on the portal.
For conducting consultations and collective analysis of complex diagnostic cases BioVitrum offers a modern solution Histoviewer – touch-screen pathology viewer. It is a unique system which transfers the process of pathology education, diagnostics and consultation to an advanced level of digital visualization. Innovative smart technology helps you not only to view but also to full-fledged work, measure and marks, with scanned images.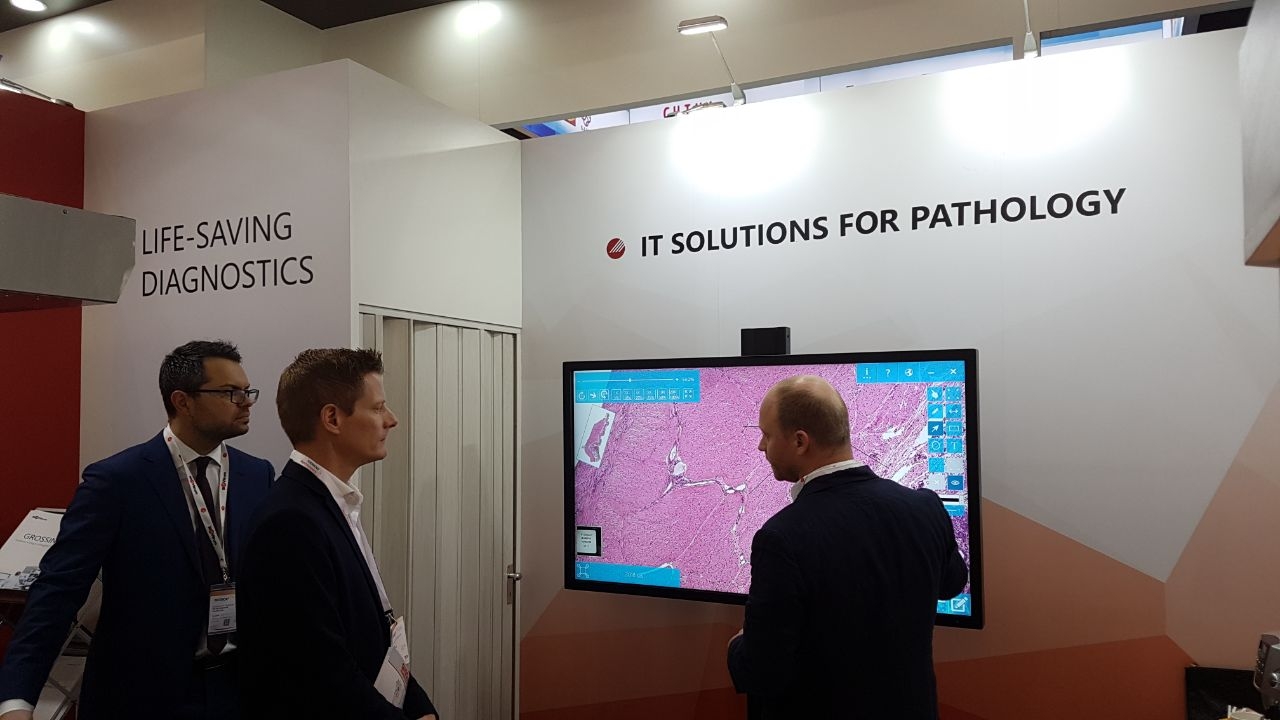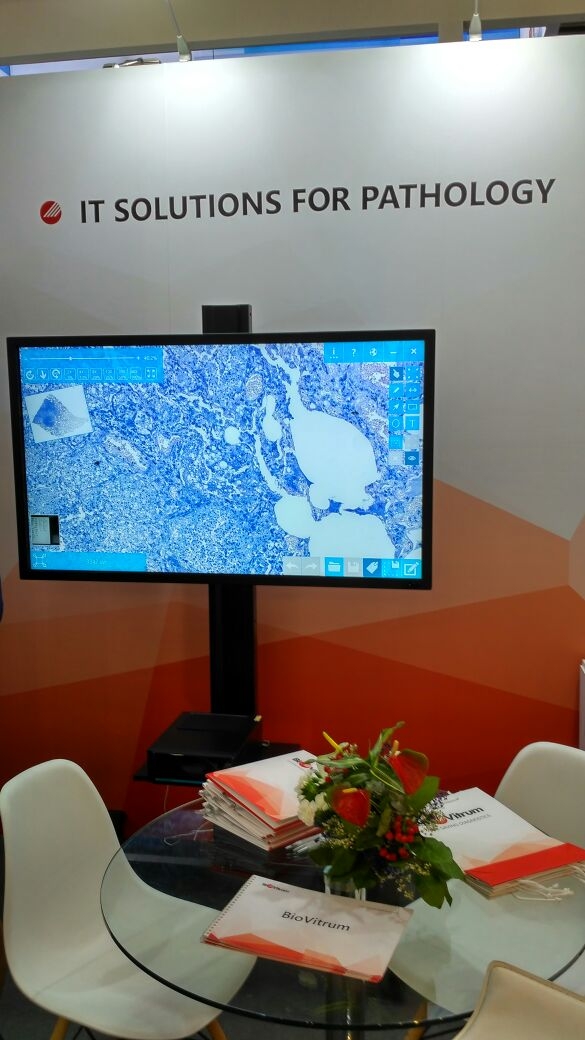 More than 5,000 exhibitors from 66 countries took part in industry "MEDICA & COMPAMED 2017", and we are pleased to be among them. BioVitrum is strengthening the image and reputation of the Russian medical industry. By the presenting its own developments on the world market we win the interest in cooperation with BioVitrum by right.
The scientific program of the exhibition included a new conference, MEDICA ACADEMY (a certified advanced training event for doctors from a wide range of disciplines); MEDICA LABMED forum, dedicated to important issues of interdisciplinary cooperative work; MEDICA HEALTH IT FORUM and MEDICA CONNECTED HEALTHCARE FORUM (digitalisation and dematerialization for smart processes) and many other specialized events.
Within the framework of the scientific reports "MEDICA & COMPAMED" by the German Association of Medical Technologies BVMed, was announced data on increasing the world turnover in the medical technology industry by almost 6%, which will be conditioned by changes in the export market.
We are open to cooperation and will be happy to answer all questions regarding the distribution of our products to the foreign market. Please contact us to the e-mail.: inter@biovitrum.ru
Back