News
/
/
/
BioVitrum took part in the conference "Translational Aspects of Regenerative Medicine"
BioVitrum took part in the conference "Translational Aspects of Regenerative Medicine"
The conference "Translation aspects of regenerative medicine" was held on 15 of February 2018.. The venue for the event was the Congress Center of the First Moscow State Medical University named after Sechenov. The conference was an effective discussion platform for opinions and experience exchange between Russian and foreign specialists. The goal was in determination prospects in translational medicine and further introduction of science achievements in medical practice, including molecular and regenerative medicine.
Russian and foreign experts discussed the creation of damaged organs bioengineering equivalents, preclinical research and clinical trials, bio-printing, modeling and design of biomaterials, as well as legal aspects of its use.
The conference included lectures of leading international and Russian specialists, plenary sessions with pre-clinical and clinical studies, and a roundtable on legal issues related to the use of cell products.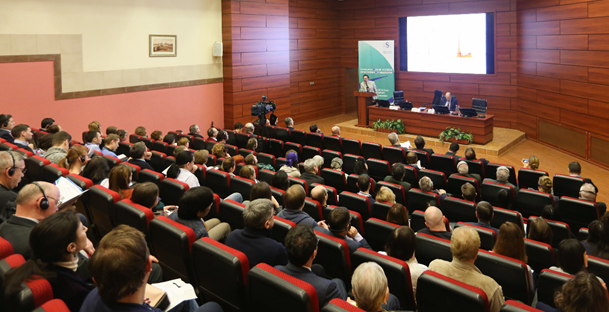 Among the invited speakers of the conference were:
- Anthony Atala, Professor, Director of the Wake Forest Institute of Regenerative Medicine (USA);
- Vladimir P. Baklaushev - MD, Professor of the Laboratory Diagnostics Department of the Institute of Professional Medical Education of FMBA Russia, Deputy General Director for Research and Medical Technologies, Russia;
- Denis V. Butnaru - Director of the scientific and technological biomedicine park of Sechenovskii University, Moscow (Russia) and others.
The event was attended by students, postgraduates, researchers, faculty professors, hospital physicians, geneticists, pharmacologists, physicians of personalized medicine, as well as employees of pharmaceutical companies, specialists of regulatory institutions. The event gathered together experts in the field of cell and gene therapy, tissue engineering and regenerative medicine.



A special exhibition session was organized for conference participants, where the modern developments of the molecular and cell biology were demonstrated.
BioVitrum presented a full product portfolio in the field of Life Science. Biolegend reagents and Beckman Coulter antibodies for scientific and clinical research got a great interest of the event participants. The visitors of the booth highly appreciated the reagents and test systems of Lonza, designed for cell culture and differentiation, tests for evaluation of proliferation, determination of endotoxins and mycoplasma.
BioVitrum specialists conducted the detailed consultations on the modern equipment for microscopy and cell technologies in particular on integrated systems for cell parameters analysis. These systems allow studing dynamic processes in cells in an automatic mode without violating the optimum incubation parameters.


Back