News
/
/
/
The results of the All-Russian competition "The Microworld Beauty - 2019" are summed up
The results of the All-Russian competition "The Microworld Beauty - 2019" are summed up
The competition theme of this year was a triptych in Petri dishes. The task of the participants was to create pictures of bacteria and fungi colonies on microbiological media. For the realization of the creative idea, all participants were provided with ready-culture microbiological media in Petri dishes of "Sredoff" company.
"The Microworld Beauty - 2019" contest was held for the fourth time. BioVitrum, the organizer, faced a difficult task: how to bring in something new to the competition of microbiologists, that has already become traditional? This explains the unusual choice of the theme: a triptych in Petri dishes. The participants were offered to draw three pictures connected by a single plot.

The microbiologists, who participated in the competition, have shown their creativity. Someone created a modular picture from three cups, someone illustrated the plot development, and someone devoted all three images to a significant historical event. In total, 65 works were sent to the competition. The participants were from Moscow, St. Petersburg, Barnaul, Irkutsk, Tyumen, Ryazan, Vologda and even more than a dozen Russian cities.
The results of the competition were summed up on June 14 at the Russian-Chinese Congress on Medical Microbiology, Epidemiology, Clinical Mycology and Immunology "XXII Kashkinsky Readings" in St. Petersburg. The top three works were selected by a jury of leading industry experts.
The first place was taken by Svetlana Episheva (Polyclinic №4 of the Presidential Affairs Department, Moscow) with a work about the course of time "At the Park Alley". From the first minutes of discussion, the jury members came to the unanimous opinion that this triptych deserves first place.

The second place went to the work "China" of Yulia Makhneva (Department of Microbiology and Virology, Kirov State Medical University, Kirov). The experts emphasized the high mastery of the performance of the triptych.

The third place was taken by one of the few male participants in the competition, Alexey Zhuravlev (Test-Pushchino research laboratory, Moscow Region). The jury members could not resist the magnificent execution of Gagarin's smile on the triptych "Flight".

The winners were awarded at the "Kashkinsky readings". Natalya Vasilyeva, Director of the Kashkin Scientific Research Institute of Medical Mycology delivered a solemn speech. BioVitrum awarded the winners with diplomas and memorable gifts.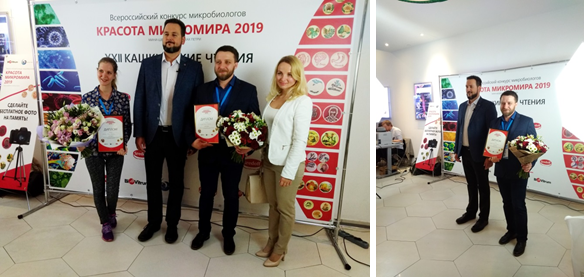 The Congress participants could select the fourth winner by the popular vote. The guests of the "Kashkinsky Readings" voted at an interactive screen and in the group on the microbiological social media VKontakte.

At the "Kashkinsky readings" there was a gallery of "The Microworld Beauty" works of this year and a showcase with models of past years winners. The models aroused great interest among the participants of the congress. People stopped to look at pictures in Petri dishes and take pictures with them. It is pleasant to realize that the "The Microworld Beauty" is gradually becoming a tradition for the microbiological community.

Back