News
/
/
/
"BioVitrum" strengthened the image of Russia at the international exhibition Medica
"BioVitrum" strengthened the image of Russia at the international exhibition Medica
On November 12 - 15, the largest European exhibition of medical equipment and technologies took place in Dusseldorf. BioVitrum took part in the event and presented its own developments for Pathology. The products of the Russian manufacturer aroused interest among foreign audiences.
Medica is not the first international exhibition in which "BioVitrum" participates as an exhibitor. The company has already presented its products in the Netherlands, Singapore, the United Arab Emirates and other countries. Participation in events of this scale for our company is a great opportunity to find new distributors and partners, establish business contacts and expand our own influence in the foreign market.

Vladimir Tsimberg, CEO of BioVitrum LLC: "At the moment we have already concluded quite a few contracts. We are working in many countries of the Middle East, in many countries of Asia. We already have a sufficient number of customers in Europe, and we look forward to a good growth in the coming years".
During four days, about 120,000 people visited the Medica exhibition. Among them there were not only Europeans, but also citizens of more than 155 countries of the world. The number of exhibitors was 5,273 companies from 66 countries.
BioVitrum presented at the exhibition its own developments for Pathology. There were demonstrated the reagents and consumables for Histology: Innovative high-class paraffin media HISTOMIX®, Kits for histology routine and special staining, reagents for fixation and tissue processing and Mounting media. This year, BioVitrum presented a novelty – tissue marking dyes for histological process. The product is currently available only for the European market and has CE IVD certificate.
Great interest among the guests of the exhibition was caused by laboratory equipment of own BioVitrum production. At the booth, an island-type grossing station was presented, designed for the work of two doctors at a time. Features and advantages of this model are:
Enhanced ventilation of working surface

Height adjustment of the working surface

Formalin delivery and collection system

Special lighting without glare
In BioVitrum arsenal there is a number of ready-made solutions for pathology laboratories. Employees of the company conduct projects of any complexity: from design to installation and subsequent maintenance of equipment. Visitors to the booth studied with interest the layout of the morgue - an example of a real integrated project of the company, with miniature grossing stations, autopsy tables, cold chambers, body trays and other mortuary equipment.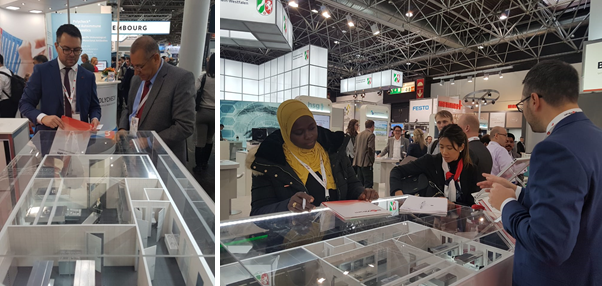 Maystrenko Egor, Senior Specialist in Equipment for Morgues, BioVitrum LLC: "Our company implements a full production cycle - from project creation to equipment installation. Our equipment can be adapted to the needs of the customer".
BioVitrum demonstrated ePath station - Macro Imaging and Macro Description Solution for Digital Pathology cases or routine Pathology tests.
Oleg Grevtsov, Equipment R&D group manager, BioVitrum LLC: "ePath is a digital station for macroscopic research of operational and autopsy material. This system is installed in the leading scientific and clinical centers of Moscow, St. Petersburg and other cities in Russia. On the European market, we bring the updated version - ePath 2.0. The system retained all the advantages of the previous version, such as photo, video and audio fixation of the working process. In addition, we have improved the software, which has become more convenient. "
The ePath 2.0 solution allows making the case description on-line, remotely from any other computer connected to the LIS. The system includes an automated calibration for different sized specimens for accurating morphometry, and also has a module for tissue tracking from Grossing to Microscopy through ePath "Cassettes ID" module.

Participation in Medica 2018 has given us many useful business contacts. For four days we held a number of important meetings, concluded agreements with foreign partners. BioVitrum once again defended the image of Russian technological production in the international arena.

Back