News
/
/
/
BioVitrum installs Russia's first Super-resolution system Nikon N-STORM in Nizhniy Novgorod
BioVitrum installs Russia's first Super-resolution system Nikon N-STORM in Nizhniy Novgorod
On February 9 in the laboratory of fluorescent bio-imaging of the Nizhniy-Novgorod state medical academy Russia's first Super-resolution system Nikon N-STORM was installed.

16 N-STORM systems have already been established at some of the leading universities of Europe, and now this year Russian scientists will have the possibility to conduct studies on this innovative equipment. N-STORM is a new system which combines:


Stochastic Optical Reconstruction Microscopy" technology (Harvard University)

Eclipse Ti research inverted microscope (Nikon)
N-STORM super-resolution microscope provides dramatically enhanced resolution that is 10 times or better than that of conventional optical microscopes and will be capable of multi-spectral two-dimensional and three-dimensional nanoscopy, with lateral resolution to approximately 20nm and axial resolution to approximately 50nm, extending the role of the optical microscope to near molecular level resolution.

This laboratory of fluorescent bio-imaging was the winner of a 2010 Grant from the government of Russia. The grand opening of the laboratory took place on 10 February 2012. In this ceremony some participants were:
deputy minister of industry and innovations of the Nizhniy-Novgorod region N.A. Nikonov;

rector of NizhGMA, professor B.E. Shahov;

manager of the laboratory of molecular technologies IBH, academician of RAN (Russian Academy of Science) S.A. Lukyanov;

manager of laboratory IBH, S.A. Deev;

pro-rector of scientific work at NNGU, S.N. Kurbatov;

deputy director of the department of nonlinear dynamics and optics, division head of nonlinear and laser physics of RAN corresponding member of RAN, E.A. Khazanov.
Great results are expected at this lab with the help of this new system. The main role N-STORM will play in this lab is to target the right medicine by selecting the most optimum and effective means of chemo and medicinal therapy. This will make it possible to avoid inefficient and ineffective treatments of tumors.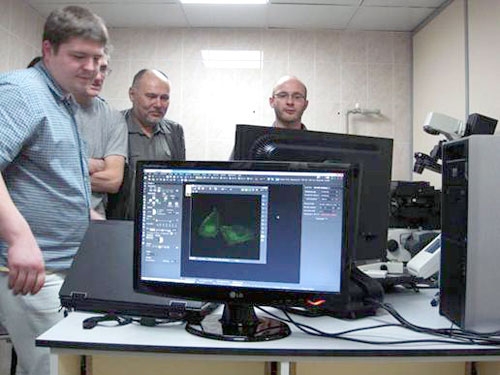 Back