News
/
/
/
BioVitrum and GenMedica Baltic held a series of training seminars in the Baltic States
BioVitrum and GenMedica Baltic held a series of training seminars in the Baltic States
BioVitrum and GenMedica Baltic held a series of training seminars in the Baltic States
BioVitrum is continuing its work in the international arena, in particular active interaction with the Baltic countries. In autumn 2016 BioVitrum experts held a series of training seminars there.
On the 29th of August 2016 was provided a seminar at one of the largest laboratories in Latvia — The East University Hospital Aslimnica (Riga). This Hospital is a multi-field medical treatment institution in Latvia that provides extensive diagnostics and treatment to patients, as well as carries out scientific research work and develops innovations, ensures young specialists training and organizes activities for public education and health improvement. The hospital employs 4556 specialists, including 1020 doctors and over 1600 medical treatment and patient care specialists. The facility is equipped with all necessary equipment, including immunohistochemical stainers of Ventana and Dako.
On the 30th of August 2016 the following training seminar was in Lithuania (Vilnius) on the basis of the Valstybinis patologijos centras (VPC). VPC – a large Lithuanian laboratory, equipped with the latest achievements of medical technology.
On the 3d of September 2016 was held an another seminar in Latvia on the basis of the Paula Stradins Clinical University Hospital. It is one of the largest outpatient and inpatient health care facilities in Riga. The hospital is also major medical research and education center.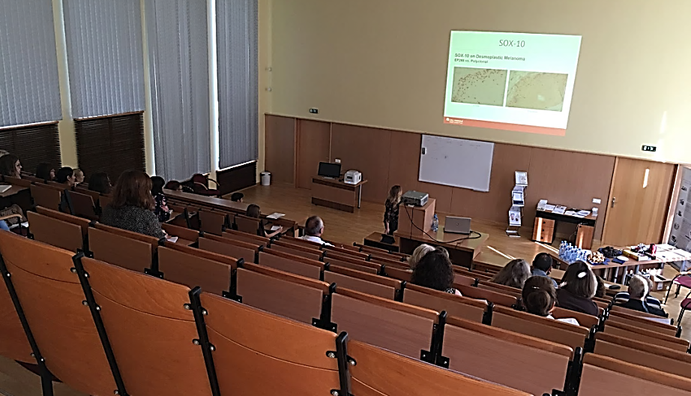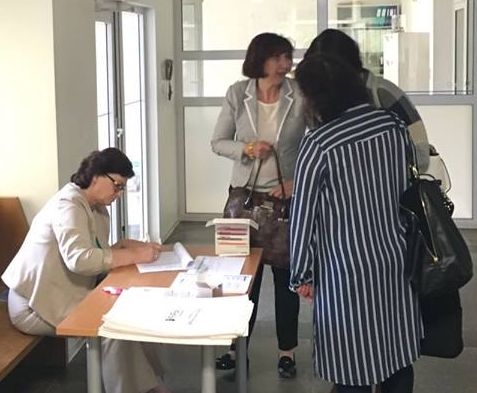 The training program covered the following themes:
Antibodies NextGen — Adrianna Eaton (Representative Cell Marque, USA);
Modern methods of histochemical studies, histological types of stains and their features - Andrei Timofeev (Head of educational and methodical department of BioVitrum).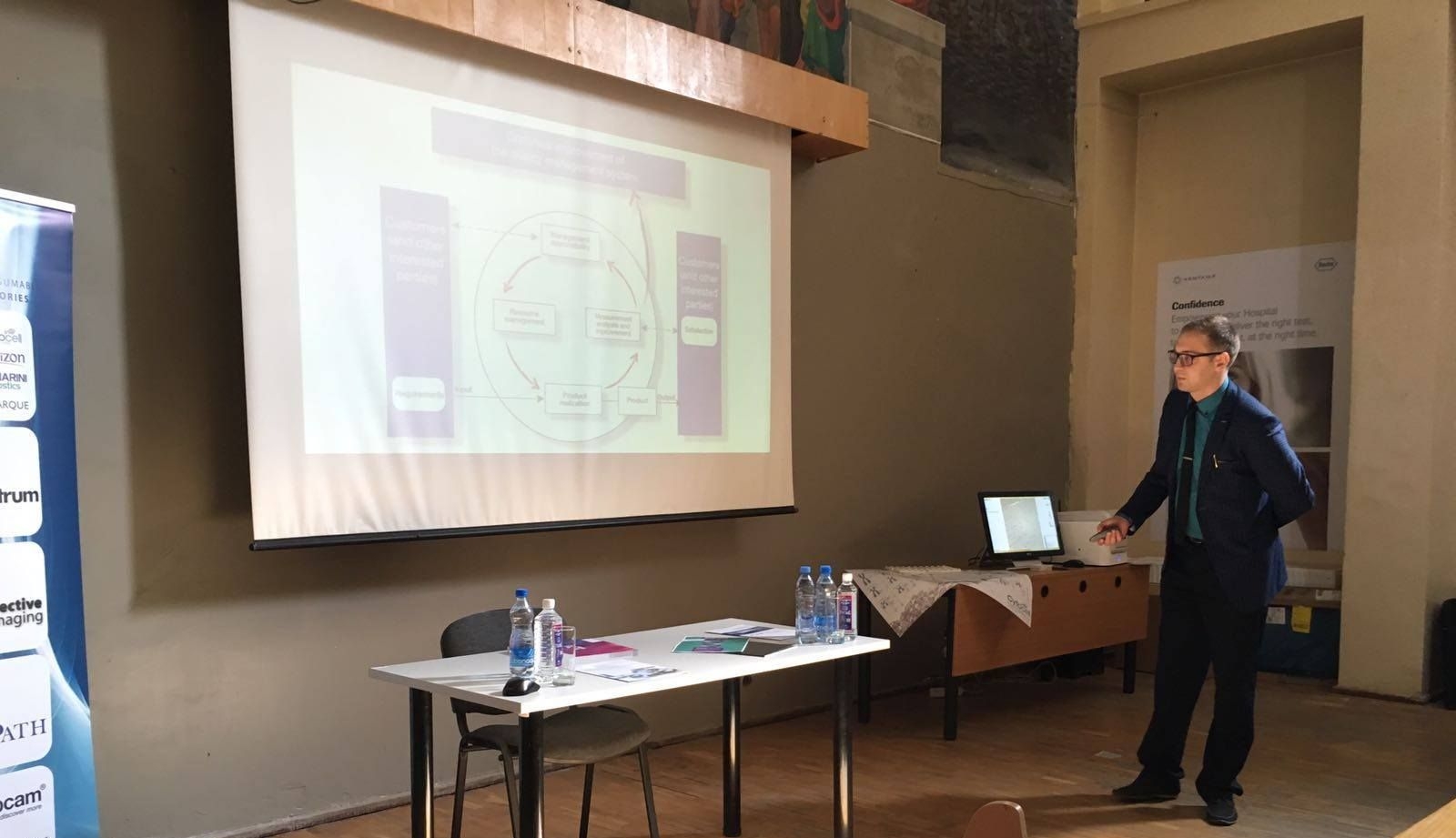 Andrei shared specific practical advices and technical issues of the processes which Baltic audience met with great interest. Technicians carefully noted lecture materials and actively participated in the discussion, organized after the lecture part.
At the end of the learning process were viewed histological stains using by the Baltic specialists, and they offered prospects for its improvement. The samples of histological stains and reagents of BioVitrum were high evaluated by the audience.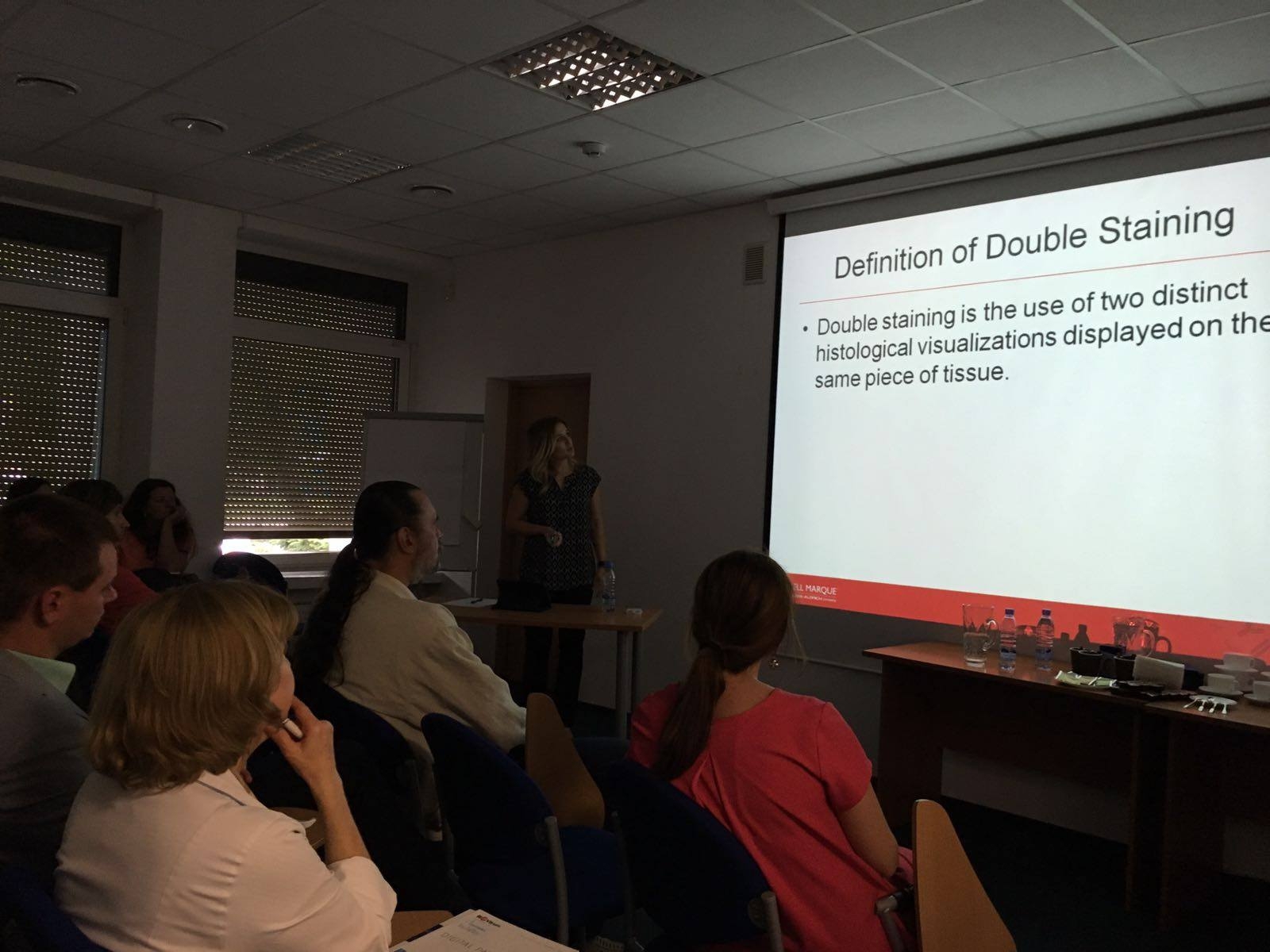 participants were invited to visit a. During the seminar many specialists joined the professional community of laboratory-histologists - Histoclub.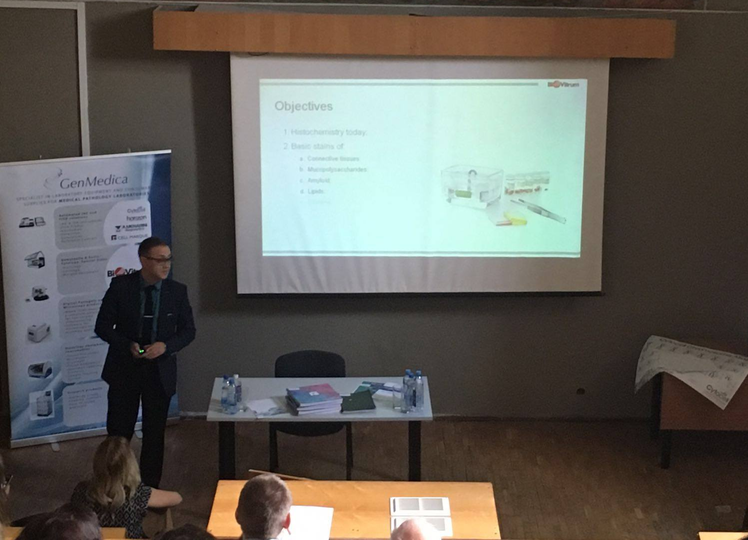 The total number of listeners of the three seminars was about 100 participants.
Because of a lot of interest to the courses BioVitrum makes a decision to continue such educational programs.
Back